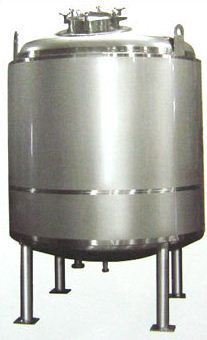 Storage Tanks are widely used in different industries for storing primary or end products . These tanks can be fabricated from stainless steel, mild steel, alluminium based on the application of the tank. Our Storage Tanks are specially designed to ensure hygiene of products by maintaining sterile environment. The stored product in the tank remains free from the contamination. These machines have an excellent finish and are easy to clean.

Our range of Storage Tanks can be supplied up to 100 KL Capacity. We offer industrial storage tank, which are designed for safety under wind and seismic conditions and optimized for rugged construction as these tanks minimize evaporation loss. Our range of storage tank are designed to various international standards.

Horizontal Tank
Diameter is greater than height.
The product is typically in uniform powder form.
Mostly tank bottoms rests over concrete
support. Therefore a lot of supporting structure
is saved.
Road tanker which transports FET based
chemicals is manufactured with different type of
designs.
Saddles supports & stiffeners are provided.
Vertical Tank
Tank height is greater than diameter.
Various roof are vapour-lift roof, Floating roof,
Column supported roof etc.
A lot of supporting structure is required
because wind load acts over tank which may buckle it.
One major advantage is, that the liquid can flow
by gravity and this will result in saving the pumping costs.
Measuring Vessels
These are mainly temporary storage tanks which also measures stored fluid.Various level gauges or indicators are fitted to measure & store definite quantity.
Designing of storage vessel : Parameters to be considered while designing are storage capacity (working/design), volatility, bulk density, evaporative losses of stored material, roof of tank, support & foundation if required.
Capacity : up to 100 KL Capacity which are designed as per IS, ASME, BS, DIN, API Standards.